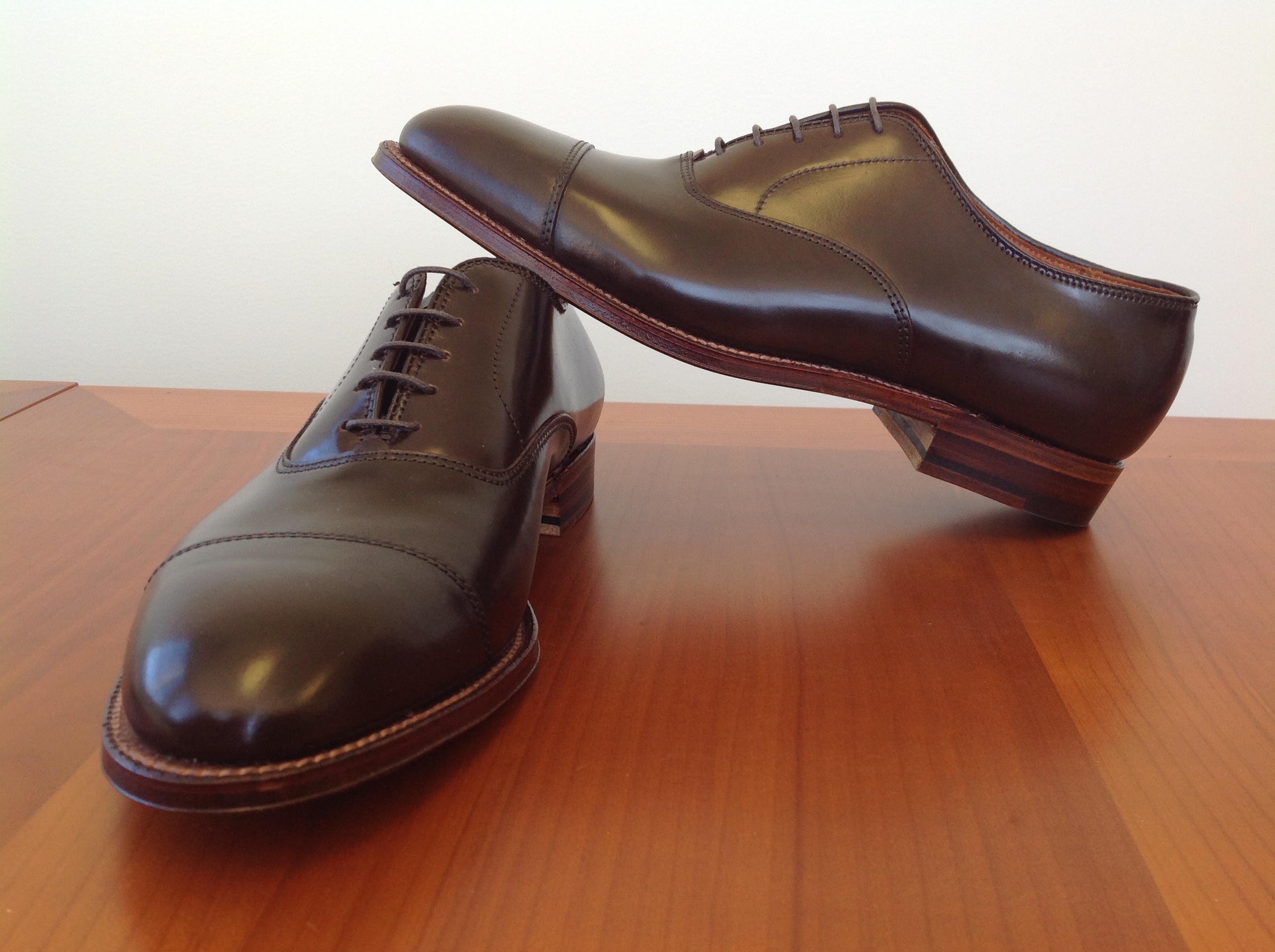 What are some of the properties of Cigar Shell Cordovan?
Shell Cordovan leather comes from a ligament in the hindquarters of the horse. Shell Cordovan leather comes from a ligament in the hindquarters of the horse, and does not need to be polished frequently. The leather is layed with many different kinds of fats and oils, and requires about 6 months for tannage--for the tannery to cure the material before it's ready to be put into production. In comparison, it may take only 2-3 weeks to tan the fine calfskins used in Alden shoes. For this reason, Cigar Shell Cordovan shoes do not need to be polished often.
What makes Cigar Shell Cordovan so rare?
As mentioned above, tanning shell cordovan is a very long process. It is harder to produce Cigar, Whiskey, and Ravello Shell Cordovan because when producing these colors they use what they call a "clear". That means that they use semi-clear colors with some shading in them, so the leather used has to be a more perfect skin. As they apply the materials they use to get these exotic colors, they have to be very uniform. The shading of the leather also causes variations in the final color. This is why some Cigar shoes are lighter and some are darker. There is even some variation within the color on one shell or in one pair of shoes. The vamp and the front of one shoe could be one color, and towards the back of the boot, or the side vamp of the boot, it could be slightly different. And that's both the charm of the leather, and the unusualness of it, but you will see these differences.
How often should I polish Cigar Shell Cordovan Alden shoes?
As said earlier, Shell Cordovan does not need to be polished often. We recommend polishing your Cigar Shell Cordovan shoes about once a month--maybe even every two months--depending on how often you wear them.
If you wear your Cigar Shell Cordovan shoes out in bad weather, you will have to take care of them more often. As with all leather shoes, let them dry naturally and do NOT use any artificial heat. We absolutely recommend using shoe trees. In this case, we would also recommend protecting your shell cordovan shoes with the Alden Leather Defender at the end of your shoe care routine or as needed.
How do I care for my Cigar Shell Cordovan Alden shoes?
Before you do anything, insert a pair of shoe trees. This will give you a good surface to work on so that you can work on your shoes with a light touch. You don't need to apply too much pressure when cleaning shell cordovan shoes. A shoe tree will also help you to handle the shoes in your arms or on a table so that you can use play a bit with the leather, as it is not the kind of leather that is uniform. You'll see a lot of different shades on the same boot, on the left foot or right foot, even.
Always clean the dirt off of your shell cordovan shoes before polishing. If you begin to polish over dirt, that dirt can settle in and be very difficult to remove. Regular matainence and brushing will go a long way. You can brush your shoes with an Alden Horsehair Brush. You can also use a damp cloth to remove dirt.
Always use separate brushes for separate colors. You don't want the residual Black polish on your brush getting on your Cigar shoes.
What color polish should I use?
No pair of exotic Shell Cordovan shoes is exactly alike, and you will most often find that the color even varies throughout each shoe itself. Because of this, we recommend a variety of polishes depending on how you have already treated your shoes and what kind of look you are going for. We cannot guarantee that your Cigar shoes will remain the same color they were when you first unboxed them, but customers that send us their pairs for refinishing are usually happy with our results. A neutral polish will always give the most natural effect, but if you would like to build a unique patina, you may want to start adding in some color.
We have used Alden Neutral boot cream, Alden Tan Paste wax, and Meltonian London Tan or Cognac on Cigar shoes*. You want to apply any color very sparingly. While it is possible to remove polish when the shoe becomes too dark, it is a much easier task to add more.
* We already know you are going to ask about this. Alden recommends to use Alden Paste Wax only on Shell Cordovan and using anything else comes at your own risk. At TheShoeMart, we have been caring for these shoes for a very long time, so we're willing to play around with the leather when it doesn't accept the polish we're using. We have found that when starting with a neutral boot cream, the cream spreads more uniformly on the shoe than the waxes do. The average person who does not have the experience or equipment that we have may prefer to work with the waxes because it will be easier for them to get a higher shine that way.
How should I apply polish?
You can apply polish with a clean cotton tee shirt or, if you want the luxury experience, you can use an Alden Polishing Cloth. As stated above, apply waxes very sparingly. Shell Cordovan is already layered with fats and oils, so you don't have to polish these shoes often. By starting lightly and adding a small layer of wax at a time, you will have more control over the final result.
You won't have to wait long for the wax to dry, usually by the time you're done with the second shoe, you can go back to the first. Wipe and buff softly with the reverse side.
Finish off with a horsehair brush. Remember, the brush cannot have been used on any other color shoes or the color will transfer and darken your shoes.
What else can I do to keep my Cigar shoes in top shape?
While we do urge you to keep your Cigar Shell Cordovan shoes clean, we also urge you to actually wear them. Part of the beauty of Alden shoes is how they form to your foot with regular wear, and the brilliant patina they develop over time. If you love these shoes, they will love you back.
*Please note that all photos are for reference only and the shoes featured on this page are NOT available for sale.