Posted by Liz J. on Jan 28th 2020
Alden Pre-Orders at TheShoeMart
Want to Pre-Order an Alden x TSM Custom Bootmaker Edition?
The process can be a little intimidating, but at TheShoeMart, we do our best to make it easy for you.
What Is A Custom Bootmaker Edition?
"Custom Bootmaker Edition" is a fancy name we use for our Alden "make-ups", which is another name for shoes or boots that Alden "makes up" just for us.
Alden Stock Program shoes are any items that Alden regularly produces for all of their vendors. If you're interested in ordering one of those, we have that process detailed here.
Alden Custom Bootmaker Editions are items that we at TheShoeMart dream up, detail, and request Alden make so that you can drool over them.
How to Pre-Order
Want to Pre-Order an Alden x TSM Custom Bootmaker Edition? The process starts with a simple sign-up.
1. Browse our Alden Custom Bootmaker Editions and select the shoe you like.
Then, on the product page, select the size and width you are interested in. Not in stock? Sign up to be notified!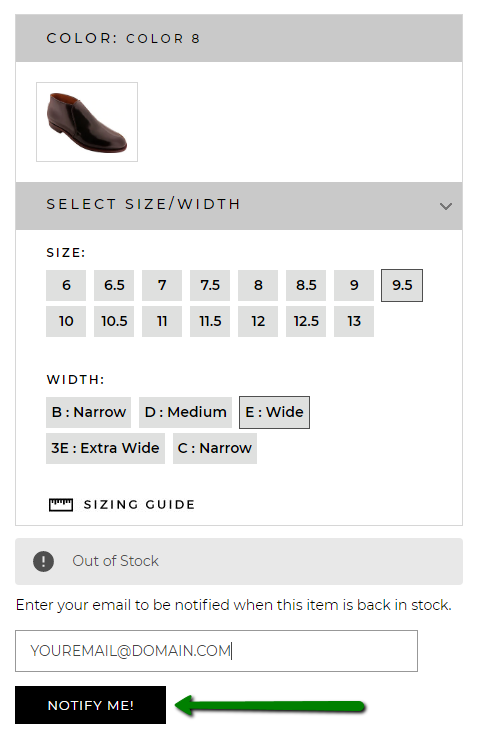 2. When we go to order this model again, we will contact anyone that has signed up and request you fill out our Alden Pre-Order Form.
It can be a period of months between your sign up and when we make the model again, so we have you fill this form out just in case anything has changed (sizing, address, etc.)!
3. We will review your request, confirm the size can be made with Alden, and then send you an invoice for payment within a week or two of your request.
4. We will contact you for payment and add your requested item to our order.
5. When the item comes in, it will ship directly to you from our warehouse.
Still Need Help?
Not a problem. Give us a call at 800-850-7463 and we'll take care of you.
We're available 10AM-4PM Monday through Friday, or send us an e-mail to support@theshoemart.com at your convenience.
Share