Posted by Liz J. on Jan 31st 2020
Alden Shoes for Date Night
Ah, February. The scent of romance is in the air--but frankly, we much prefer the scent of freshly shined shell cordovan.
Whether you've already made dinner reservations, you're having an anti-Valentine's Day party, or you're spending the night just you and your favorite whiskey, we have you(r feet) covered! Below we list the best Alden shoes for Valentine's Day or date night on any other Tuesday of the year.
Let's spend less time on the red and pink details and more time on the shoes, shall we?
1. Alden Plain Toe Balmoral in Black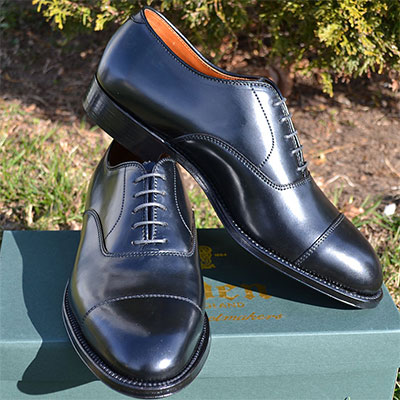 Valentine's Day offers the rare opportunity in today's society for proper formal dress. Take this opportunity to dress to the nines with a black plain toe balmoral, also referred to as an oxford. In addition to the 932 pictured above, we also offer the shell cordovan version, 9071, and the patent leather 9373 as well!
2. Alden Regina Pump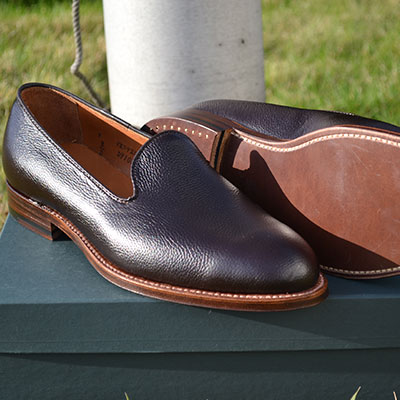 A new Custom Bootmaker Edition, our Alden Regina Pump comes in both Black and Dark Brown regina grain calfskin. This is the perfect style for kicking back at home--with or without a special someone alongside you. Wrap yourself in your favorite bathrobe and settle in by the fireplace with a glass of whiskey to stay warm. Slip them on to check the mail for the card your aunt sends every year without fail.
3. Alden Indy Boot in Kudu Chromexcel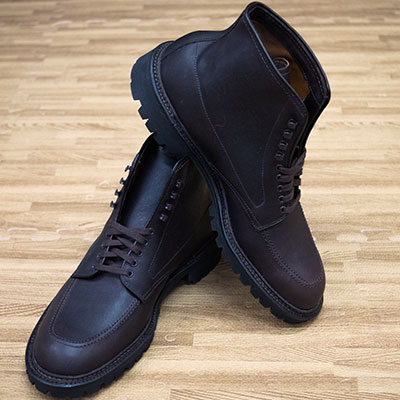 If you read last year's article on Alden Shoes for Valentine's Day, you'll remember this one. This boot has a rugged outsole and a heavily oiled upper so you're prepared for anything the holiday throws your way.
Great for taking the train to Montauk in rebellion or the artsy types that want to take a walk in Central Park, paint 'n sip, or take a pottery class. Even if you don't make it through the night, your Alden boots sure will.
4. Alden Flex Welt Cap Toe Blucher in Brown Chromexcel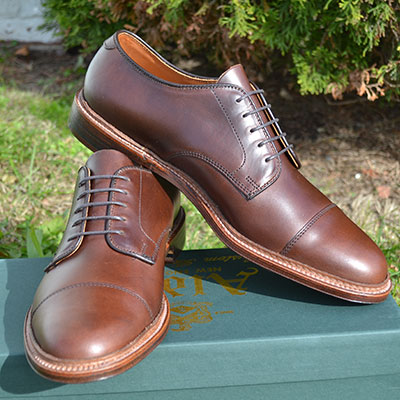 Nervous? Pick something reliable. These Alden flex welt bluchers in tan pair incredibly well with your favorite pieces in gray or navy and can be dressed up or dressed down with denim. The best benefit? They're crafted with Alden's Flex Welt Construction!
Flex models are designed to be comfortable right out of the box, so you can worry about the finer details of the date. Plus, no break-in period means you look like someone that has great style right away (and not like someone who bought his first nice shoes just for the date). Pro Tip: worry less about sweaty feet by pairing merino wool socks with this shoe's unlined vamp and breathe easy.
5. Alden V-Tip Boot in Color 8 Shell Cordovan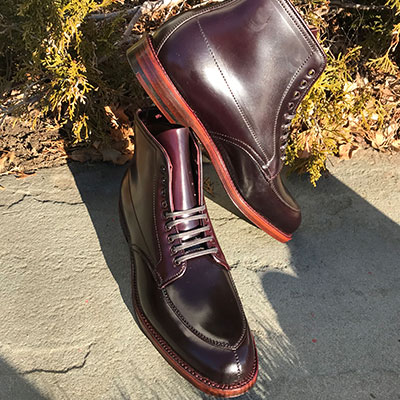 If you're on a first date and she doesn't compliment these, she's not the one.
(Unless she prefers the Tanker and she can pronounce Algonquin. Then, please introduce us!)
Share