Posted by Joe Z. on Oct 19th 2018
How To Care for Alden Shell Cordovan Shoes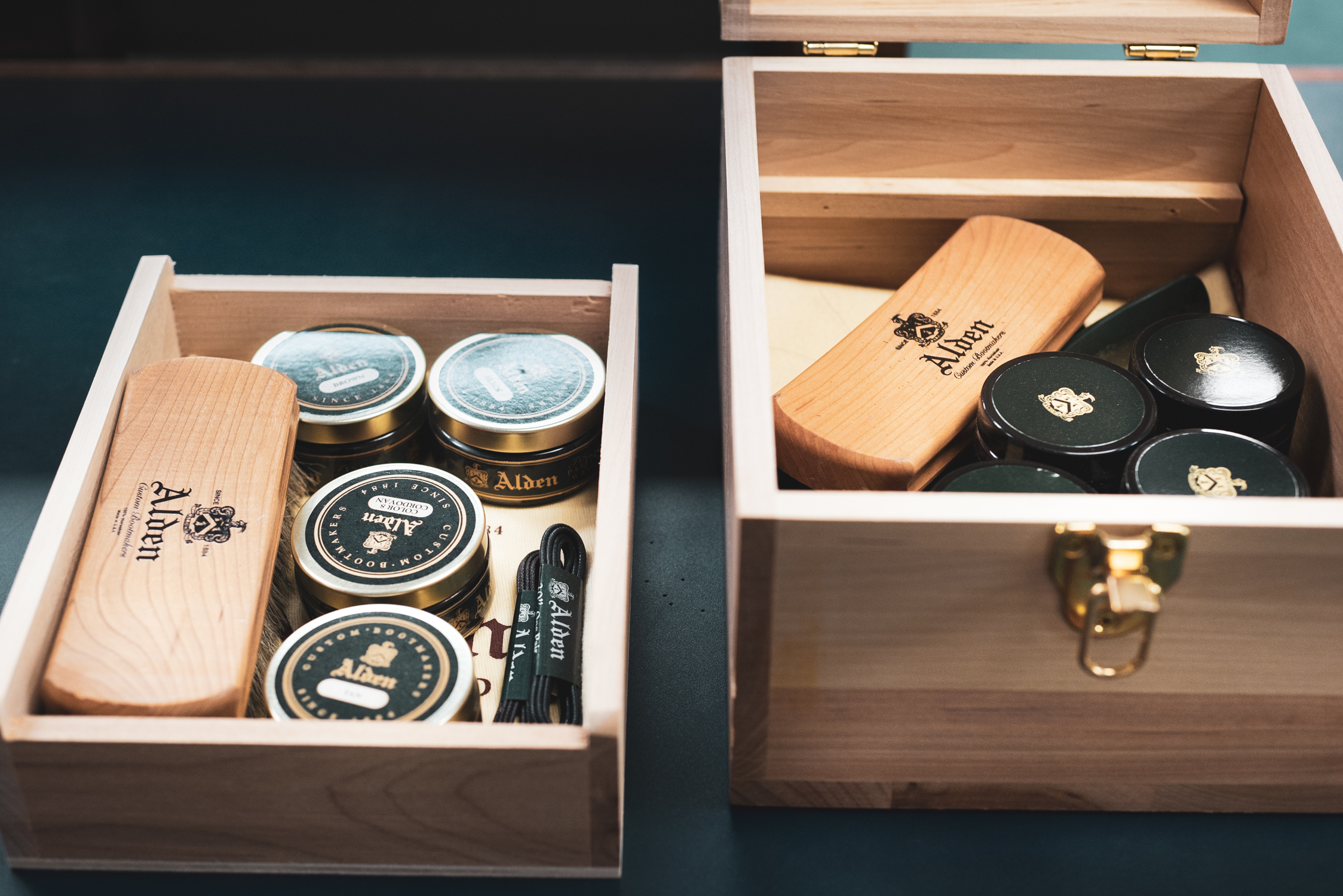 We recently came across a piece written by our very own Joe Zapatka on Shell Cordovan shoe care. A second generation owner of TheShoeMart, Joe brings over 40 years of experience with Alden shoes to the table. Whether you have no idea what Shell Cordovan is or you are a seasoned pro looking to compare notes, we think you'll find this a great read!
TheShoeMart's recommendations on how to take care of your Alden Shell Cordovan shoes:
Because the Shell Cordovan Leather is a unique material, it does require slightly different care than a normal leather item.
Genuine Shell Cordovan leather is horse hide leather. And the leather comes from a particular area of the horse, the butt, and they are called shells or horse butts.
Each butt only produces a little more than 1 pair of shoes from each horse, and take approximately 5 months requiring many different procedures to tan the hide that would now be ready to make a pair of shoes. They are processed using an old fashioned method of pure vegetable tanning, hand staining, hand glazing, and hand finishing. The tannery that Alden uses is the best tannery in the world for this procedure and has been producing them for over 100 years.
Because this leather is a vegetable tanned leather, it already contains greater amounts of oils and natural waxes. Therefore, the polishing needs are different than calfskin.
The mistake that is made the most is using too much polish. An excess amount of polish creates a build-up which hides the natural luster of the leather, is easily scratched, and attracts dust.
You should not have to polish your shoes very often. Most of the time, all that is needed is to brush and cloth them to remove dust and to buff out the scuffs.
Use only a thin film of high quality wax polish. -NO LIQUID POLISHES- Most brands sold in grocery, drug, or discount stores are usually a low to medium quality polish that can actually harm the leather.
After the polish has dried slightly, brush it off with a horsehair brush, and follow up with a final buffing using a soft buffing cloth.
Alden recommends using paste wax polish, and not shoe cream, to care for your Shell Cordovans.
Here is a list of things NOT to do to care for Shell Cordovan Shoes:
Do Not clean using saddle soap or cleaner containing petroleum distillates or cleaning fluids.To clean, all that is required is to wipe them with a cloth dampened slightly with water.
Do Not use a neutral polish. It makes a whitish film on the leather when it bends.
Do Not use any spray shines or aerosol waterproofs as these may harm the leather over time.
Do Not use heat to dry wet Shell Cordovan leather. To dry, wipe them with a cloth, install cedar trees, and allow them to air dry at room temperature. Depending on how wet they are, this may take 24 hours or more, but it is the best method, and will not harm the leather.
Do Not try to polish shoes while wet. Allow to dry using the method above, then polish if necessary.
If shoes do get wet, sometimes tiny bumps can form. This is a normal reaction, and is usually no cause for alarm, as the bumps should recede as the shoe dries.
The magic of Shell Cordovan leather is not only its beautiful color and luster, but its durability and comfort. The pure vegetable tanning allows the leather to assume the shape of one's foot. Over time, the patina improves with each polishing. With proper care, the Shell Cordovan leather in your Alden shoes will serve you well and will become one of your favorite as well as wisest investments.
What you need to care for Shell Cordovan Shoes:
Now that you have the right advice, you'll need the right tools. Essentially, you will need:
Alden Shell Cordovan Shoe Care Kits
We also sell shoe care kits that have the necessary items all in one place!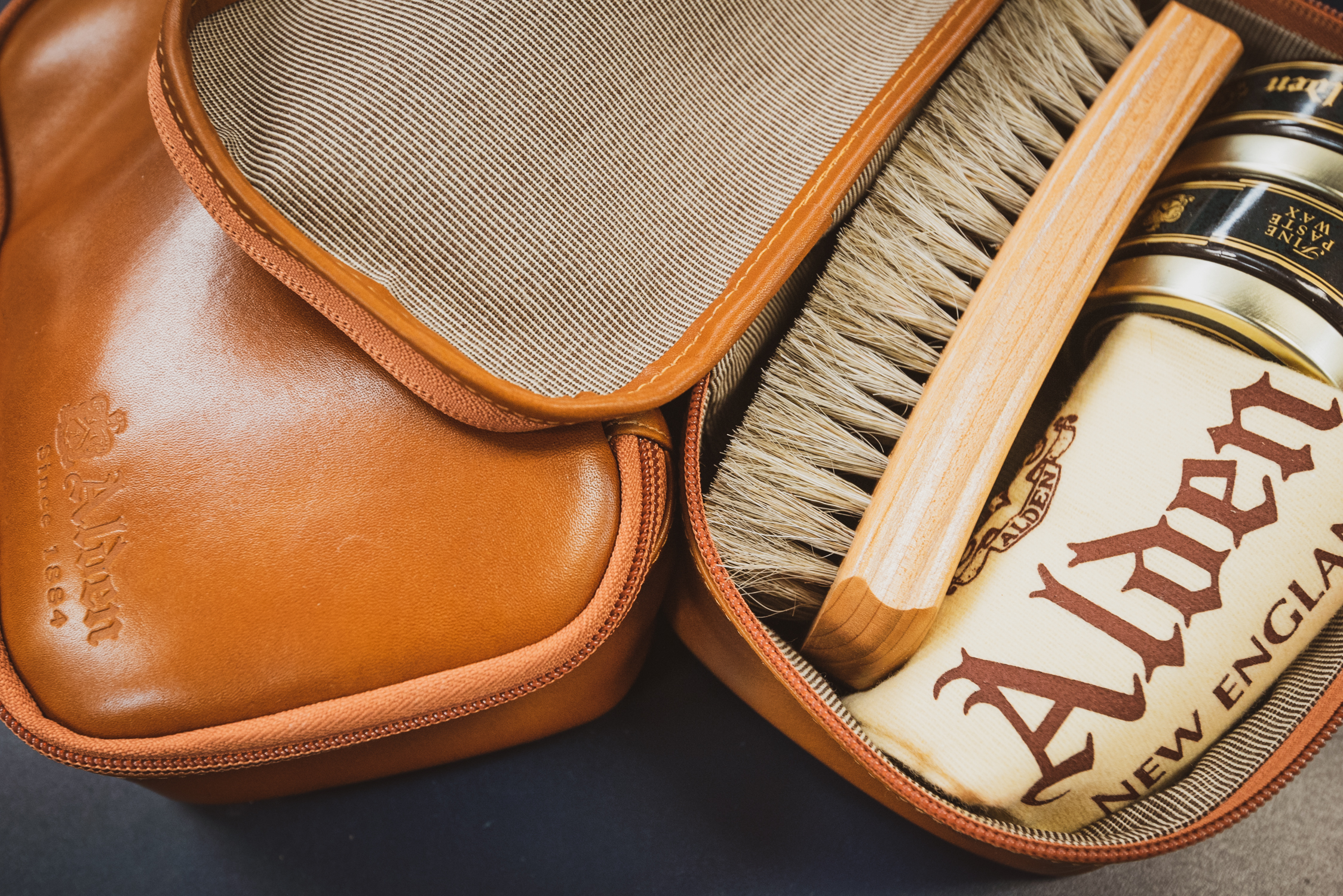 For the man on the go, we have the Alden Leather Travel Kit, with just the essentials: Alden Paste Wax in both Color 8 and Black, a horsehair brush, and an Alden polishing cloth. All wrapped up in a rich tan calfskin case that looks great in your suitcase.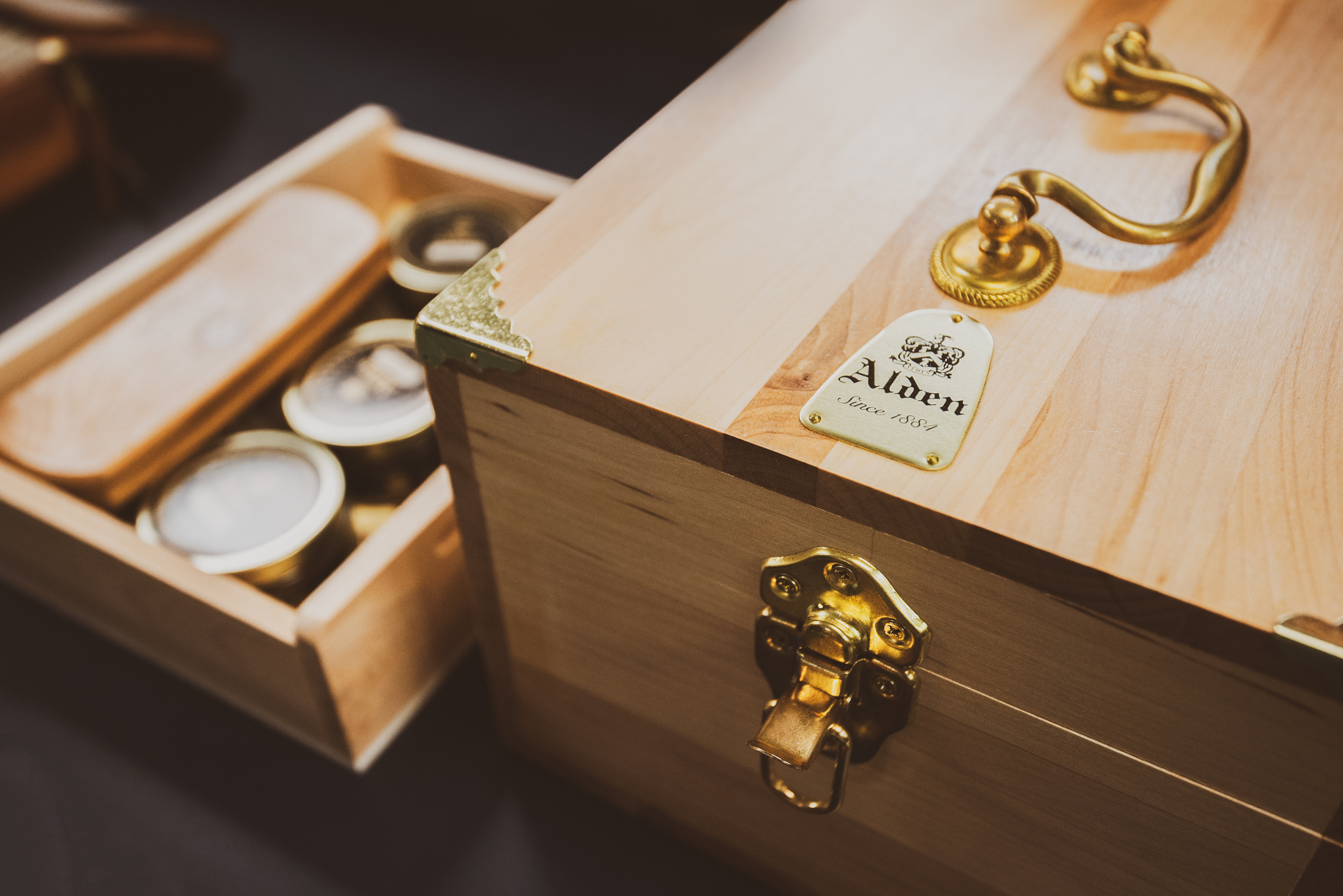 For the real Alden shoe aficionado, we have the Alden Valet Kit. This wooden box with brass hardware is the perfect size to keep all of your shoe care essentials. Plus, it comes with plenty of supplies to get you started: waxes and boot creams in every color, 2 shine brushes, 2 polishing cloths, laces, a suede brush, and even a plastic shoehorn! See full details here.
Share