Posted by Liz J. on Feb 14th 2020
Alden Shoes: New Arrivals for Winter 2020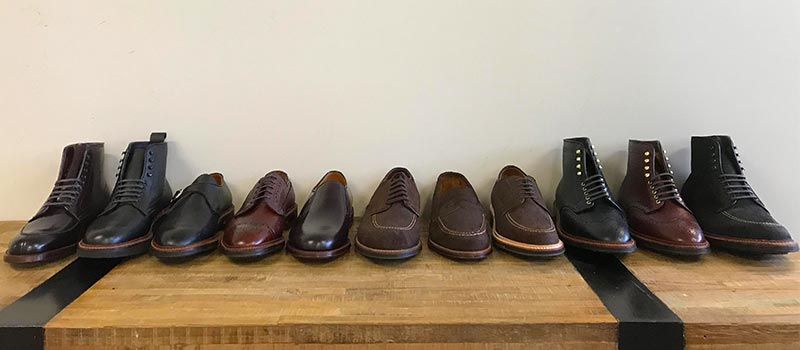 Say goodbye to winter blues with TheShoeMart's new collection of Custom Bootmaker Edition Alden shoes for 2020! All of the styles below have arrived to TSM this winter to keep you warm on long New England Winter nights. Whether you're looking for a chamois Indy boot that holds up in wet weather or a classic scotch grain shoe, we have something for everyone!
We know the Phil didn't see his shadow this year, but for these styles, we'd take another six weeks of winter! (Maybe.)
New Alden Boots at TheShoeMart
We know what you're here for! Let's start with the fan favorites: Alden boots made exclusively for TheShoeMart.
Alden Shoes Men's Indy Boot D9938HC Earth Chamois Reverse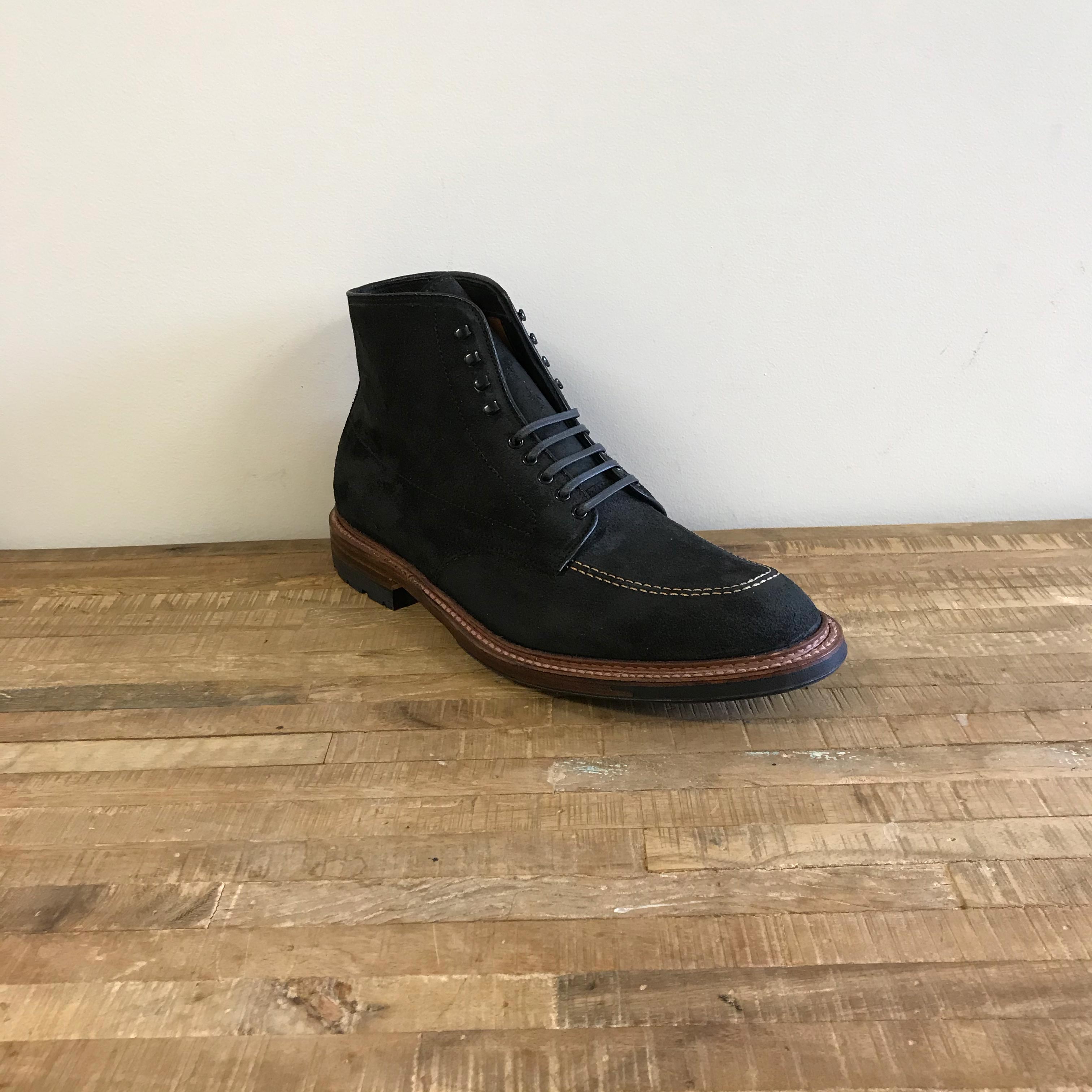 We're going to have to apologize here, because this Alden boot flew off our shelves and we only have a few sizes left! If you're interested in placing a pre-order for your size (including non-stock sizes and widths), be sure to reach out to us at support@theshoemart.com!
Earth Chamois is best described as black. It's almost a brown-black. Think of extremely rich soil--hence the name, Earth. Reverse chamois is heavily oiled so while it has an appearance similar to suede, it's extremely low maintenance and has water-resistant and stain-resistant properties. That means a small puddle or a little bit of dirt won't ruin your look. Commando soles are great for keeping a sleek silhouette without the slip and sog of leather.
Alden Shoes Men's Algonquin V Tip Boot D9937 Color 8 Shell Cordovan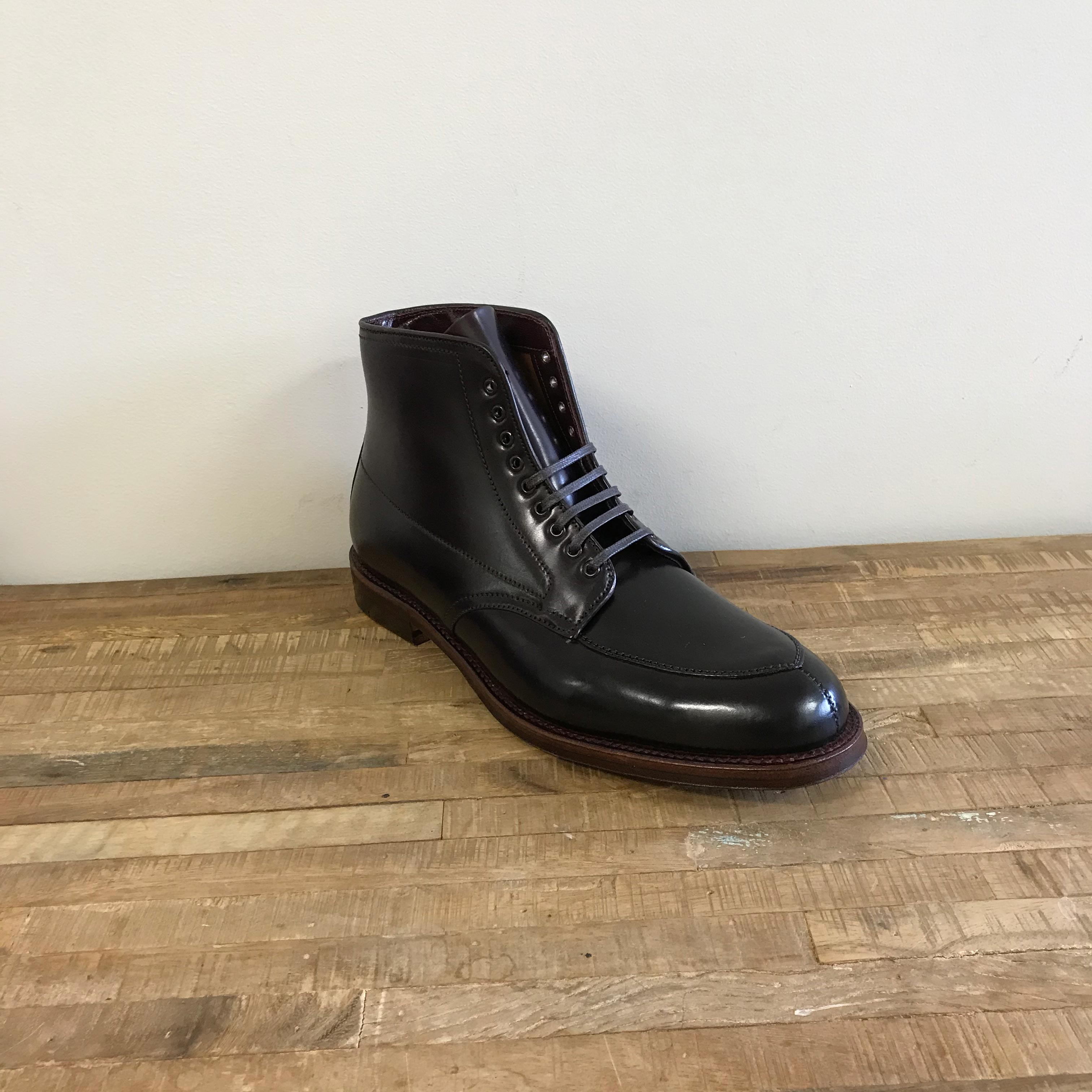 Our latest Color 8 Boot has a machine-stitched split toe that offers a sleeker look than it's handsewn counterpart, the Tanker Boot. Oiled outsoles and all eyelet construction continue the sleek silhouette for a dressier boot that can be worn almost anywhere.
You might also see this exclusive new Alden boot referred to as an "Algonquin Toe Boot". This name comes from the Algonquin tribe that originated the design in the eighteenth century. It refers to the particular v-tip toe pattern with a flat seam and a split toe stitch that continues to the bottom of the toe. If you compare this to the Norwegian toe (NST) on the Alden Tanker Boot, the main difference is the flat seam stitching compared to the raised seam stitch of the handsewn model.
Also worth noting: this stitch typically takes less time for delivery than handsewn models if you're looking to Pre-Order a non-stock size.
Alden Shoes Men's Plain Toe Boot D9841H Black Regina Grain Calf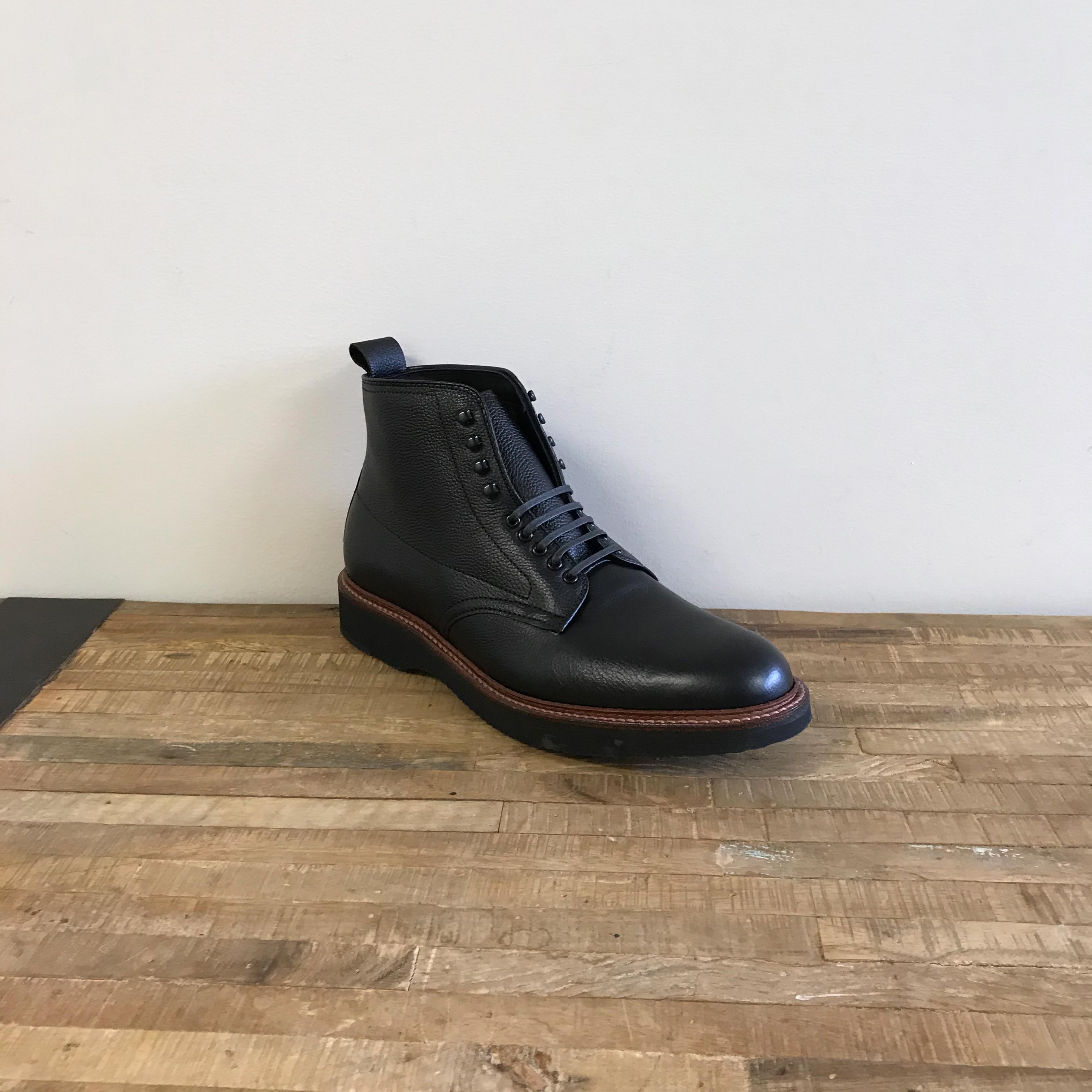 Looking for something new and different? Our new Alden x TSM Regina Boot offers a new wedge outsole! Built on the Barrie Last, this Plain Toe Boot pairs incredibly well with denim. A pull tab at the rear helps you get these on and get going in the morning. Plus, the soft regina grain leather uppers offer a fit and feel unlike any you've experienced before!
Alden Shoes Men's Wing Tip Boot D9839HC Black Scotch Grain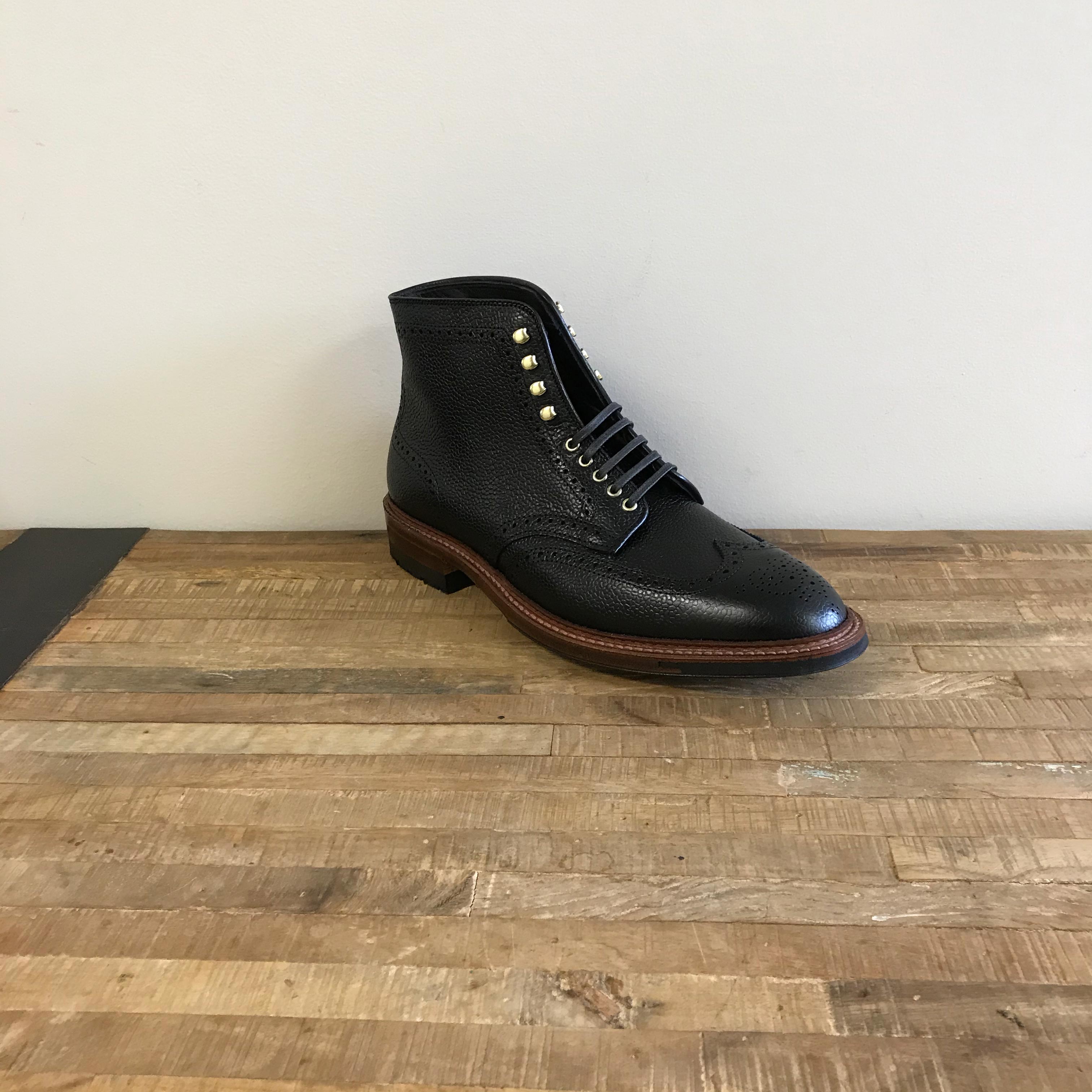 Our new Alden Scotch Grain Wing Tip Boot features brass eyelets and Commando soles. Compared to Regina Grain, Scotch Grain is a bit stiffer with a more distinct pebble grain reminiscent of classic country styles.
This unique offering comes on Alden's Hampton Last. The Hampton fits most similarly to your typical dress shoe with a bit more room in the toe box. When it comes to sizing, it's on the opposite end of the spectrum from Barrie or TruBalance and we recommend trying out your true dress shoe size.
This boot also comes in Brown Scotch Grain, as shown below!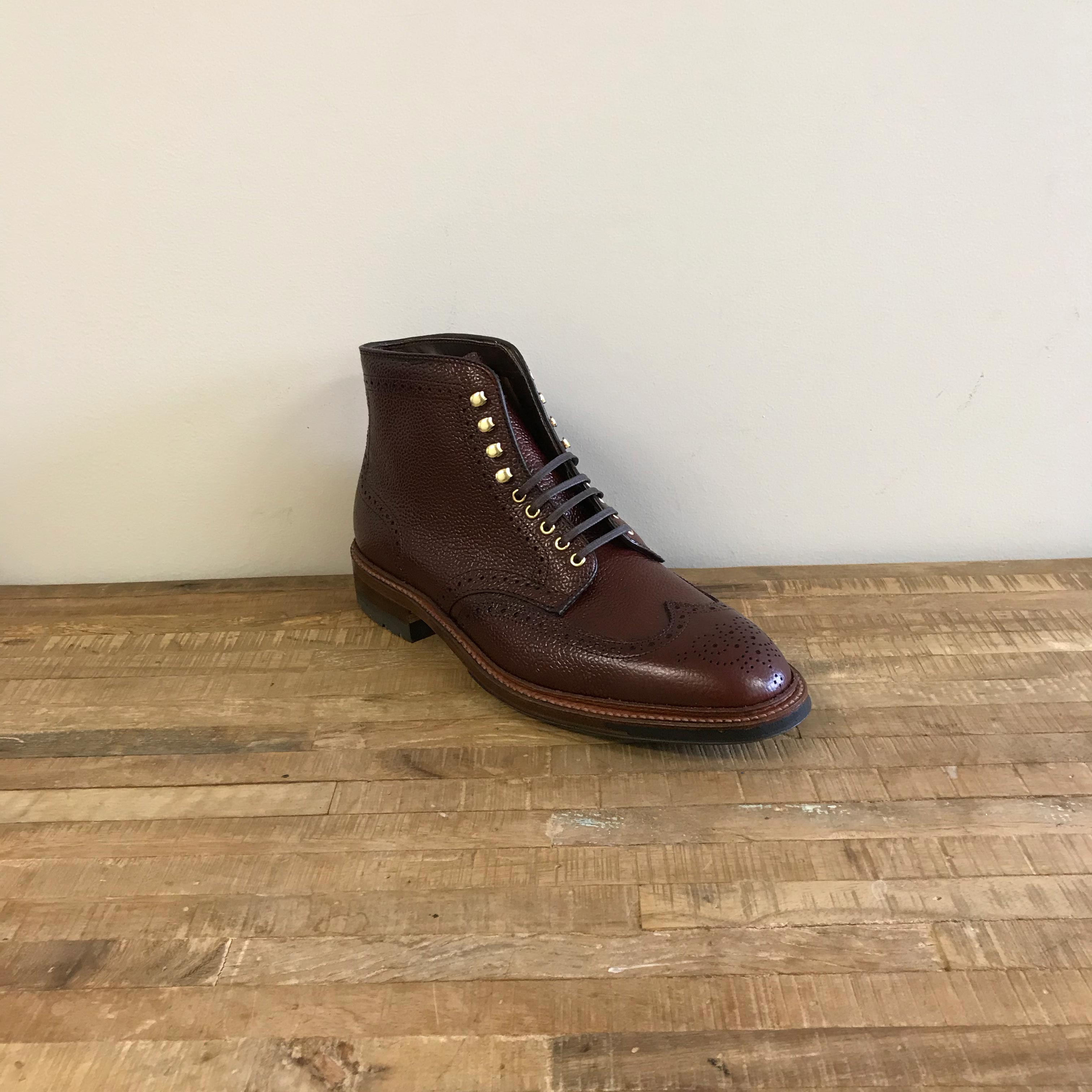 The Shoes: Alden x TSM Exclusives
Easy slip on style and substantial shoes for inclement weather in heavily oiled chamois and scotch grain leathers round out our Alden x TSM Winter Collection for 2020.
Alden Shoes Men's Medallion Cap Toe Atom Blucher D9522C Brown Scotch Grain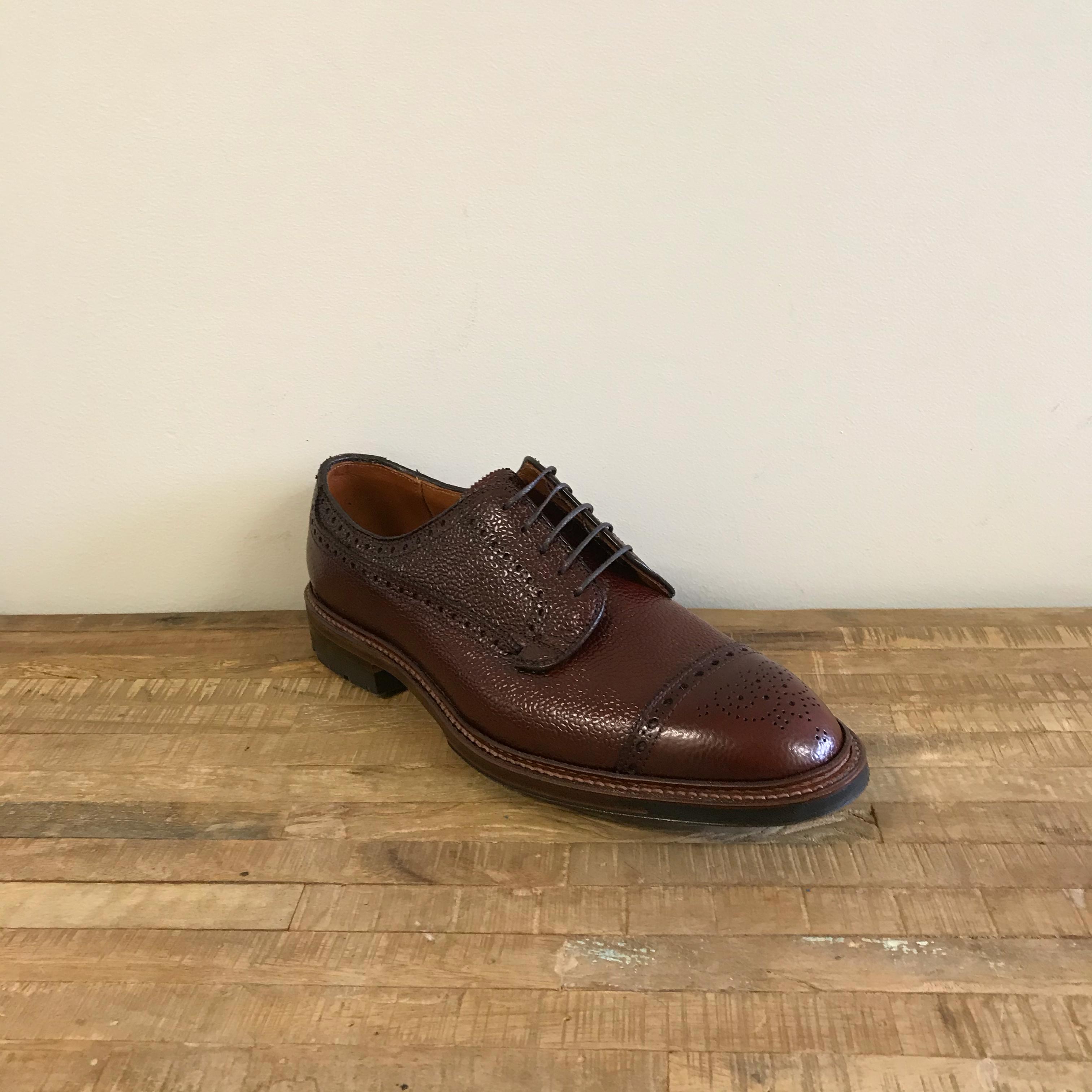 First up is this handsome Alden medallion cap toe blucher in Brown Scotch Grain leather. Perf detailing pairs well with the pebbled appearance of the scotch grain, antique edges and commando soles to make this a substantial winter shoe. The rich brown shade looks wonderful well through April as you navigate wet pavement with ease.
Again, go with your true dress shoe size on the Hampton Last, which offers a traditional dress shoe aesthetic that adds elegance even to shoes on the more casual end of the spectrum.
Alden Shoes Men's Monk Strap D9410C Black Scotch Grain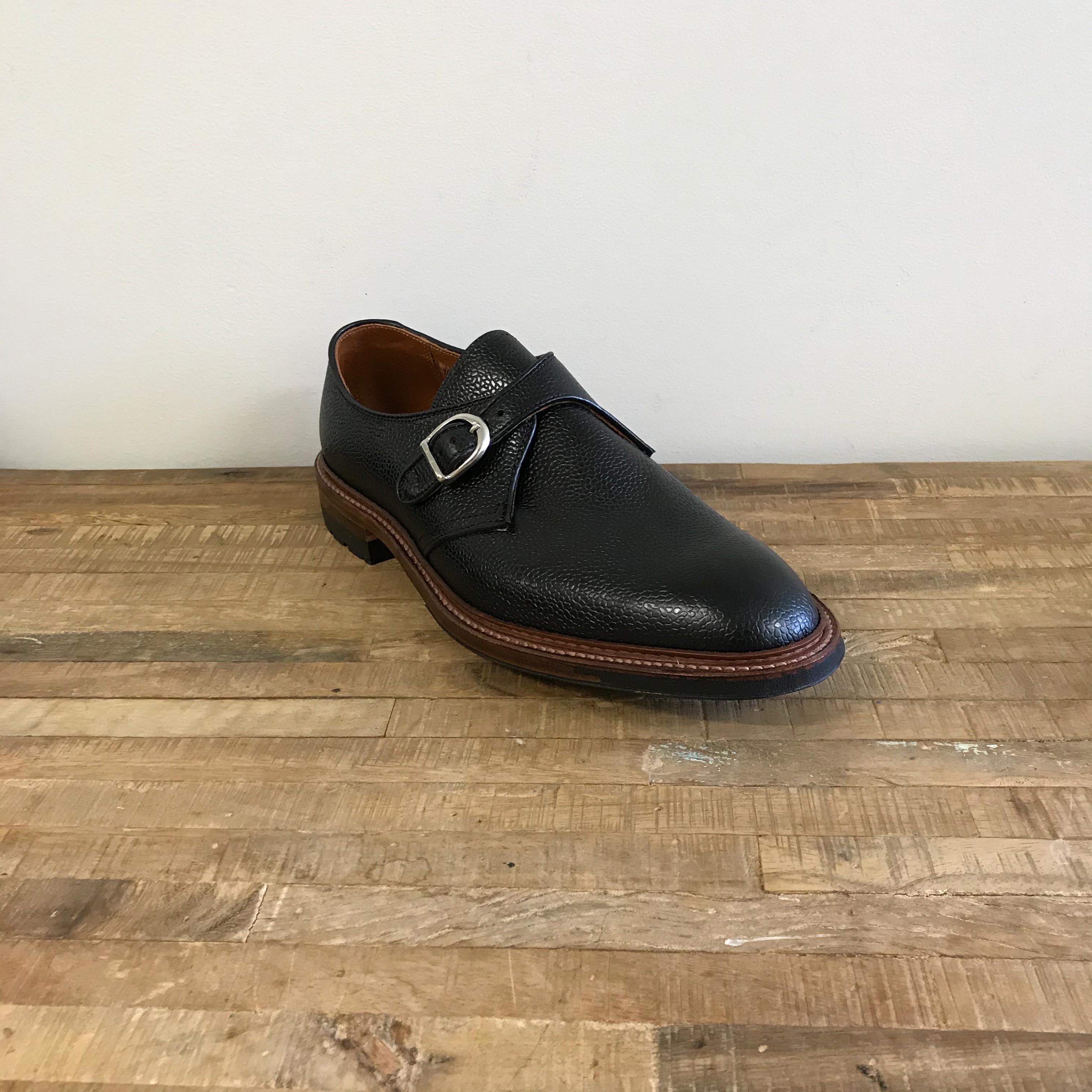 Our new Alden Scotch Grain Monk Strap comes in Black Scotch Grain with silvertone details. An easy way to coordinate with your watch, cuff links, tie bar, and belt buckle for a smart look from head-to-toe. If you aren't able to coordinate everything? Not a worry, focus on your overall look!
Exclusive to TheShoeMart as part of our Alden Custom Bootmaker Edition collection, this single strap monk is extremely versatile with casual and business casual outfits. While often relegated to the gentleman that is unafraid of risks, we think it's hard to go wrong with this style in your casual wardrobe. Just don't wear them with shorts or with formal attire! These are perfectly paired with denim, blazers, and other casual attire.
Alden Shoes Men's Leisure Handsewn D9214F Tobacco Reverse Chamois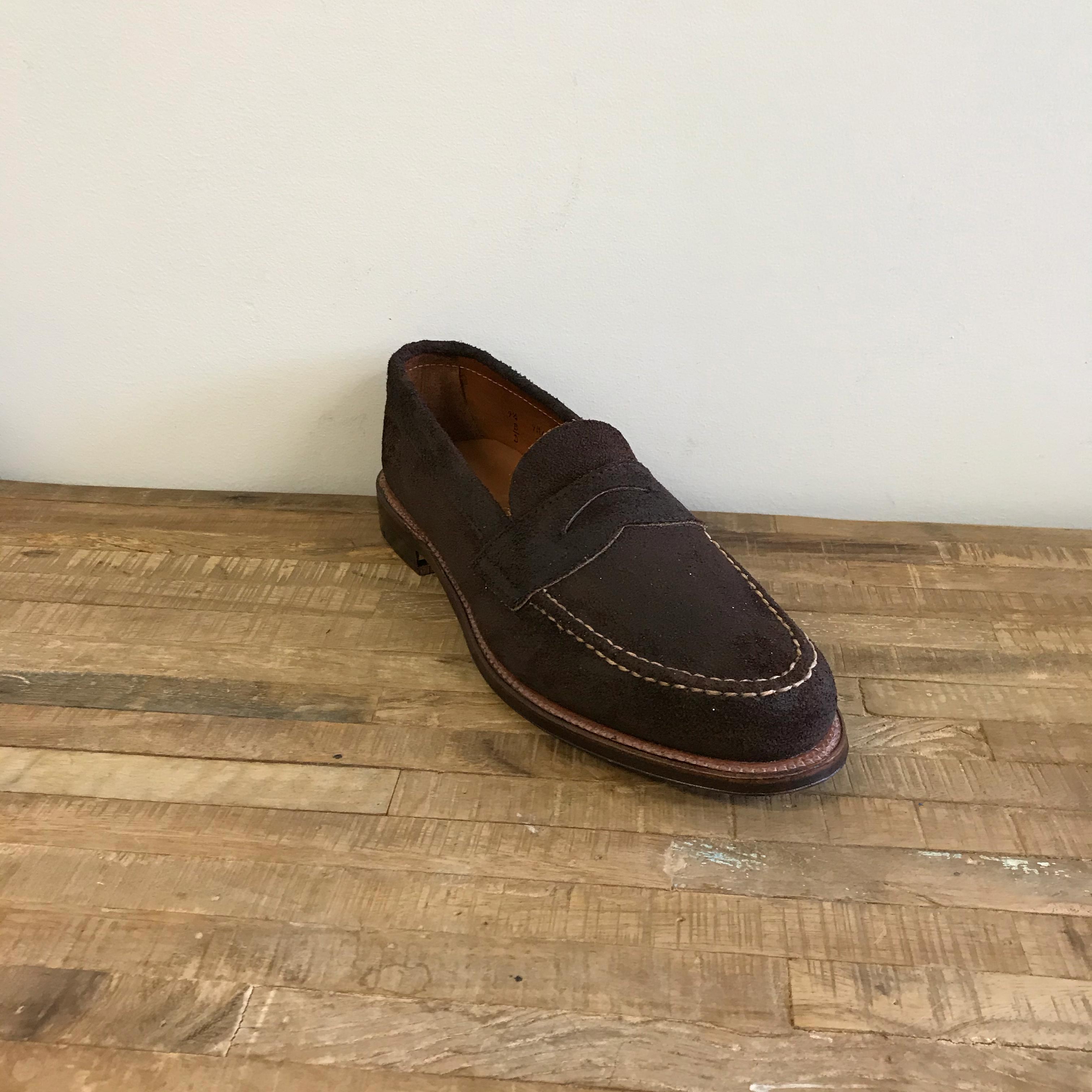 A loafer for winter? What? Well, if you had to have one, this is the one! Reverse Tobacco Chamois is heavily oiled so it gives the look of suede without the maintenance. Oiled leather soles compliment Alden's popular Leisure Handsewn (LHS) silhouette for a shoe that is both rugged and refined.
Alden Shoes Men's Ranger Mocc D9626C Tobacco Reverse Chamois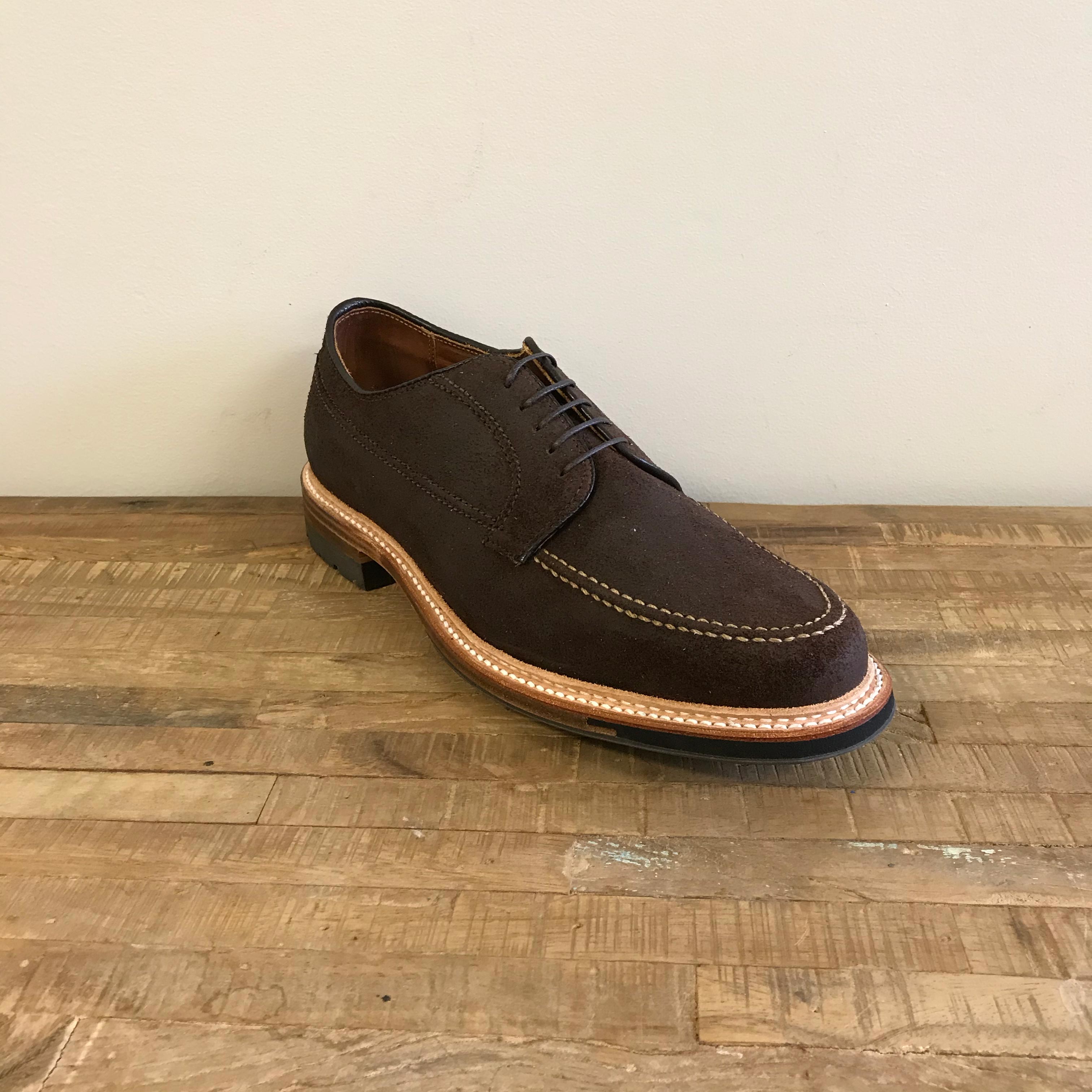 Still prefer a shoe? Like the LHS, Alden's Ranger Mocc is made on the comfortable and accommodating Van Last. Add on a Commando sole for something more substantial in light snow and rain. Plus, that moc toe stitch is pretty sweet.
Alden Shoes Men's 6 Eyelet Indy Oxford Commando Sole D9624C Tobacco Reverse Chamois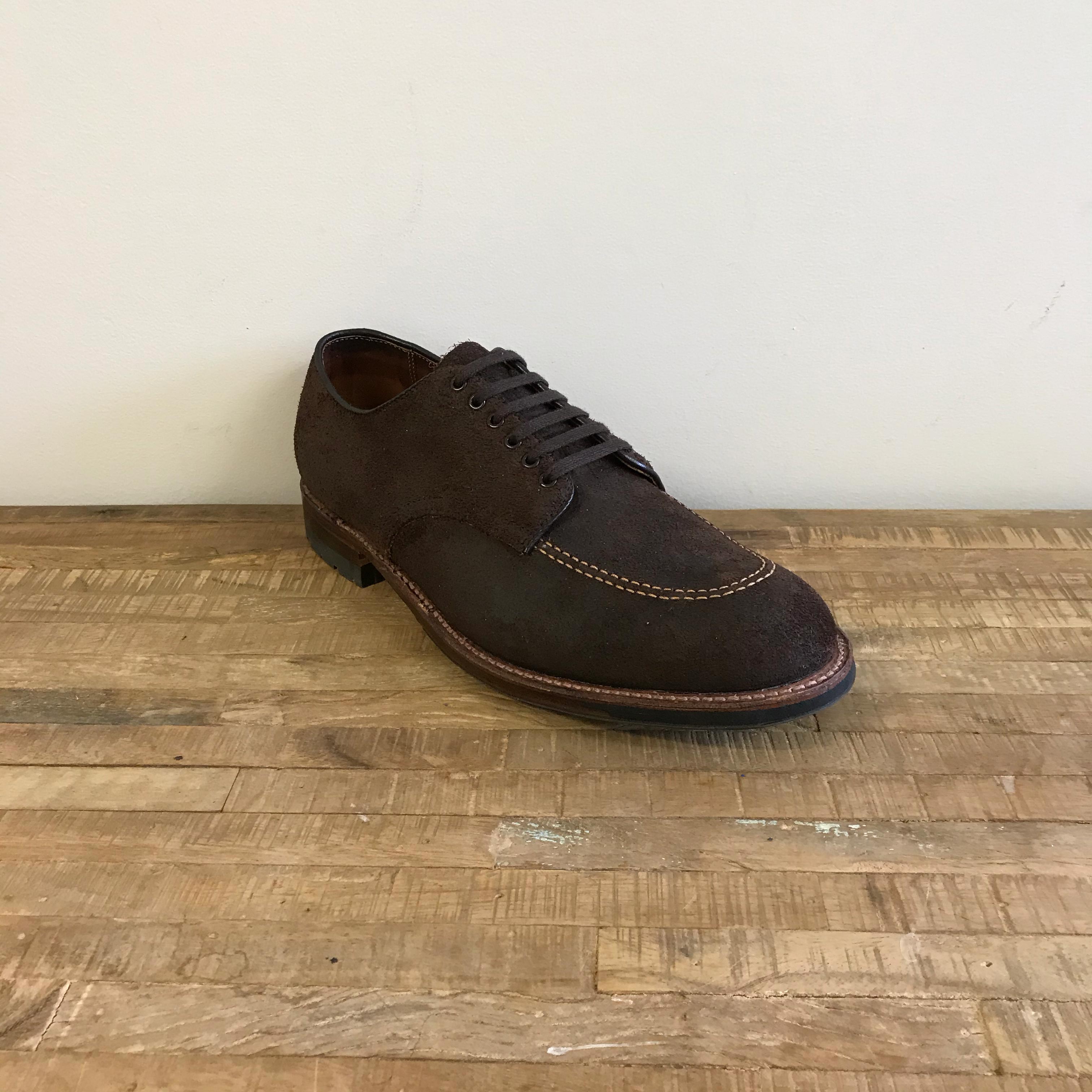 Okay, so you want something a big tougher. Made for a real New England Winter (which we haven't seen yet, but during mid-February we aren't out of the woods, yet!), our Alden Indy shoe will have you prepared for anything except deep snow--or a snake bite to the ankle! With over 60 years in business, we've tried out multiple versions of custom make-up Alden Indy shoes and we've found that 6 eyelets works best, particularly on the popular TruBalance Last. Give them a try!
Alden Shoes Men's Traveler Boot Barrie Last D9408 Color 8 Shell Cordovan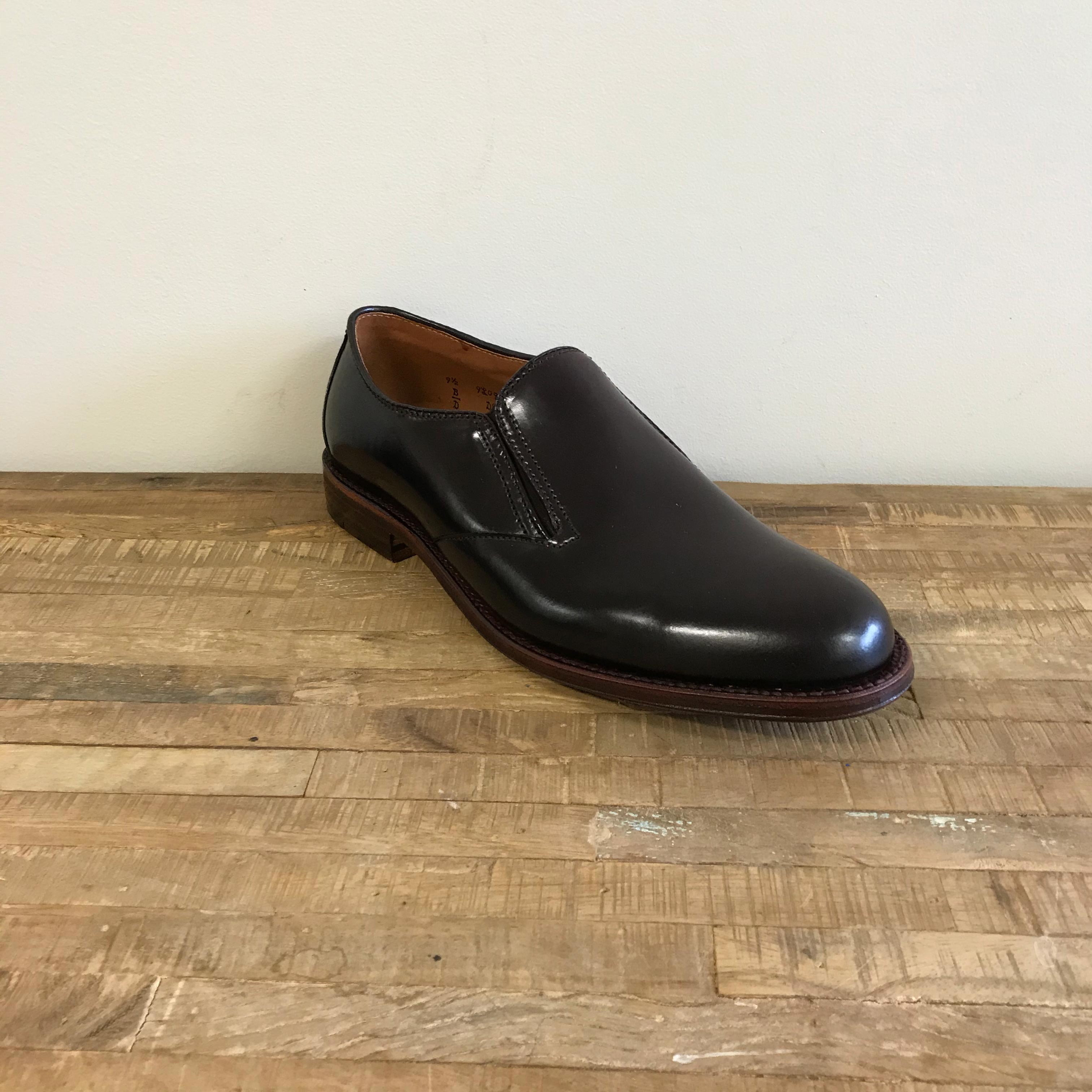 Heading to the airport? Planned a trip to somewhere warm? Maybe (unlike us) you already live somewhere warm! (We're looking at you, Californians! It is presently pitch dark outside for us during your lunch breaks.) We recommend our new Barrie Last Traveler Boot--more of a shoe, really. It slips on and off easily for travel and is perfect for the cooler winter nights in warmer climates.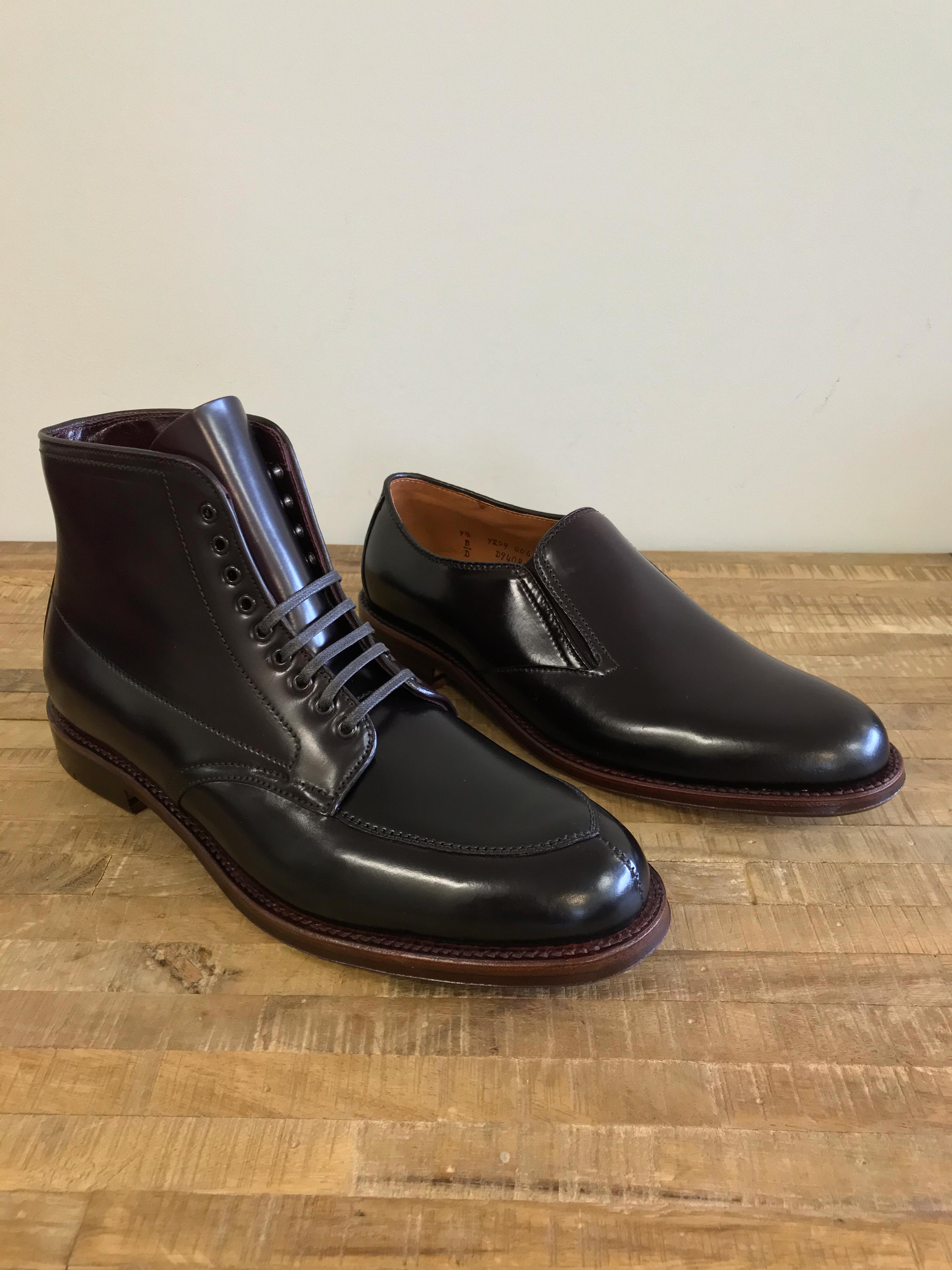 Speaking of which, most of this collection transitions well into wet spring weather. If you're sticking with shell, be sure to pick up a bottle of Alden Leather Defender!
Share